The SEC and DOL are continuing to focus on rollover recommendations and their impact on investors. The DOL's Fiduciary Rule and PTE 2020-02 requirements will perhaps become the new industry standard going forward.
Meet your rollover requirements with confidence. Watch this On-Demand Webinar to hear our panel of experts discuss:
Regulatory challenges and opportunities presented by the increased regulatory focus on IRA Rollover recommendations.
How insurance carriers, broker-dealers, and investment advisors can make compliant rollover recommendations.
Tools, documentation and disclosures needed to help financial professionals make informed rollover recommendations.
Hosted by the Insured Retirement Institute (IRI).
Jason Berkowitz, Chief Legal & Regulatory Affairs Officer at Insured Retirement Institute 
As Chief Legal & Regulatory Affairs Officer at the Insured Retirement Institute, Jason Berkowitz provides leadership and support for IRI member company priorities before federal and state policymakers, including the Securities and Exchange Commission (SEC), the Financial Industry Regulatory Authority (FINRA), the Department of Labor (DOL), the state insurance and securities departments, and state legislatures.
Berkowitz leads industry efforts on major regulatory initiatives applicable to the lifetime income industry and is the primary author of IRI's comment letters regarding various regulatory proposals. He led IRI's engagement with respect to the DOL fiduciary rule, and he remains at the forefront of IRI's engagement on standard of conduct activities at the SEC, the National Association of Insurance Commissioners (NAIC), and across the states.
Berkowitz joined IRI in October 2012, serving as the association's Vice President & Counsel for Regulatory Affairs until March 2019, when he was promoted into his current role.
Carol T. McClarnon, Partner, Eversheds Sutherland
Carol McClarnon has more than 20 years of experience covering all aspects of compliance with the Employee Retirement Income Security Act (ERISA) from both the employer and the retirement services industry perspectives. Carol routinely advises financial services companies on ERISA and federal income tax matters that impact their business operations. She often works together with our Financial Services lawyers in providing legal advice for financial product development.
Carol also represents employers and service providers in ERISA litigation and in administrative proceedings before the United States Department of Labor and the Internal Revenue Service (IRS). She is skilled in working with clients to proactively resolve compliance issues through obtaining prohibited transaction exemptions, private letter rulings and IRS voluntary compliance relief and closing agreements. Her experience covers the full range of retirement solutions, including employer-sponsored qualified pension and profit sharing plans, 403(b) plans, IRAs, 457(b) plans and non-qualified annuities.
Ed Wegener, Managing Director, Oyster Consulting LLC
Ed Wegener is an innovative compliance, risk management and supervisory controls expert with deep understanding of Federal Securities Laws and the rules of self-regulatory organizations, as well as technology optimization and risk mitigation. Prior to joining Oyster, Ed held several posts in FINRA, most recently as  Senior VP and Midwest Regional Director.  While there, he was responsible for the Region's risk assessment, examination and investigation programs. Ed was a member of the team that developed FINRA's risk-based examination program and he developed and managed FINRA's first Digital Asset and Cybersecurity examination programs.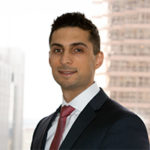 Parham Nasseri, Vice President Regulatory Strategy, InvestorCOM
Parham Nasseri has over a decade of wealth management and regulatory experience. He is the Chair of the Canadian Advocacy Council of CFA Societies Canada and previously held roles at the Ombudsman for Banking Services and Investments and the Brattle Group. Mr. Nasseri is a CFA Charterholder and has an MBA from Schulich School of Business.