InvestorCOM Inc. wins Employee Recommended Workplace 2019 for the second year.
InvestorCOM is an Employee Recommended Workplace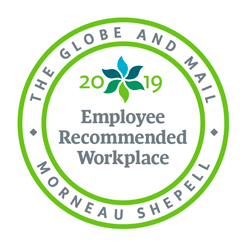 The Employee Recommended Workplace Award is the only award of its kind that is based entirely on feedback from employees. The award program was developed by the Globe and Mail, in partnership with Morneau Shepell. This special designation recognizes employers with excellence in achieving a healthy, engaged and productive workplace.
InvestorCOM was evaluated by employees on four components of total health – physical, mental, work and life – and their impact on engagement and productivity.
"A t InvestorCOM we value the overall health and wellness of our employees. We are honored to win the Employee Recommended Workplace 2019 for the second year. We have a Wellness Committee that is comprised of a crossfunctional team who is responsible for keeping a pulse on the health and wellness needs of the company, developing and driving ideas, and organizing events. This award reinforces that we are focusing and investing in the right areas to enhance our employees' overall wellness experience"
Sarah Eagles, Director, People & Culture.
Employee Recommended Workplace Award 2019 Winners
---
About InvestorCOM Inc.
InvestorCOM (www.investorcom.com) provides financial technology and outsourcing services to banks, asset managers, insurance companies and investment dealers. We have developed an innovative suite of FinTech solutions in response to increasing regulation and the demand for more effective communication and disclosure from the financial services industry. We are your bridge to a digital tomorrow.