The Department of Labor's Prohibited Transaction Exemption (DOL PTE 2020-02) requirements are now in full effect, including the documentation and disclosures of rollover recommendations.
With the February deadline around the corner, broker-dealers and investment advisors will be turning their full attention to best practices around the PTE 2020-02 retrospective review requirements, including steps to detect and take corrective action when required.
Watch this on-demand webinar to hear industry experts from Katten, Faegre Drinker, Oyster Consulting, and DFPG Investments discuss:
Overview and requirements of the PTE 2020-02 retrospective review process
Challenges and opportunities associated with meeting the retrospective review requirements
How the DOL's requirements correlate with the SEC's expectations
David Porteous, Partner, Faegre Drinker
David Porteous routinely counsels clients in the investment management, broker-dealer and financial services industries on regulatory matters including examinations, investigations and enforcement proceedings as well as complex civil and securities-related litigation. In addition, he assists clients in developing and implementing compliance and regulatory risk management plans and represents clients in complex civil and securities litigation.
Mitchel C. Pahl, Partner, Katten
Mitch's deep experience in the areas of executive compensation and benefits extends to both tax and ERISA, and includes matters relating to M&A and other corporate transactions, tax-qualified and nonqualified plans, private equity, legal and regulatory compliance, nonprofit benefits, and special issues connected with globally mobile executives. His wide-ranging industry experience includes such diverse fields as technology, financial services, pharmaceuticals, real estate, energy, banking, retail, health care, and food and beverage.
Mitch's private equity experience focuses on ERISA Title I matters — investment vehicle and fund formation and operation — as well as the tax, employment and other issues raised by upper-tier management compensation arrangements maintained by partners and LLCs. This allows Mitch to provide comprehensive counseling to clients in connection with their day-to-day business activities and also their in-house operations.
Throughout his career, Mitch has been involved in numerous high-profile corporate transactions, many of which raised cutting-edge compliance issues involving employee benefits and executive compensation. Mitch is also widely recognized for his work relating to global executive compensation matters. He has worked with clients in Africa, Asia, Australia, Europe, and North, South, and Central America.
Craig Watanabe, Director of IA Compliance at DFPG Investments, LLC
Craig R. Watanabe, CSCP®, AIF®, CFP® has been a Financial Adviser and the Director of IA Compliance at DFPG Investments, LLC. ("DFPG") since April 2018. Mr. Watanabe entered the securities industry in 1983 and has been a successful financial planner, Branch Manager, Operations Manager, Chief Compliance Officer and Chief Operating Officer. Mr. Watanabe has broker-dealer and investment adviser compliance experience covering retail brokerage, market making, research, investment banking, insurance, commodities, retail investment advisory and ERISA plans. In his current role as a financial adviser with DFPG, Mr. Watanabe works with clients to assist in growing and protecting their assets and planning to meet their financial objectives. DFPG is a registered broker-dealer and investments adviser.  Mr. Watanabe is responsible for the investment adviser compliance program. Mr. Watanabe served on the FINRA District 2 Committee from 2008-2011 and was Chairman of the Committee in 2011. He also served six years on the NSCP Board of Directors and was Chairman of the Board in 2013. Mr. Watanabe is a frequent speaker at conferences and has authored numerous articles and training modules for financial professionals. Securities and advisory services are offered through DFPG Investments, LLC, Member of FINRA and SIPC.
Ed Wegener, Managing Director, Oyster Consulting LLC
Ed Wegener is an innovative compliance, risk management and supervisory controls expert with deep understanding of Federal Securities Laws and the rules of self-regulatory organizations, as well as technology optimization and risk mitigation. Prior to joining Oyster, Ed held several posts in FINRA, most recently as  Senior VP and Midwest Regional Director.  While there, he was responsible for the Region's risk assessment, examination and investigation programs. Ed was a member of the team that developed FINRA's risk-based examination program and he developed and managed FINRA's first Digital Asset and Cybersecurity examination programs.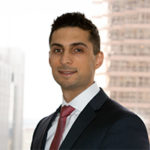 Parham Nasseri, Vice President Regulatory Strategy, InvestorCOM
Parham Nasseri has spent his career translating complex regulatory requirements into technology solutions that improve investor and advisor outcomes. He has over 15 years of regulatory and wealth management experience, including senior roles in regulatory analytics, digital transformation, and investment analytics.
Parham currently serves as Vice President, Product & Regulatory Strategy at InvestorCOM, a leading software solutions provider for the financial services industry. He serves on several advisory boards including Ontario Securities Commission's Investor Advisory Panel, CFA Societies' Canadian Advocacy Council, The Canadian RegTech Association, and Junior Achievements of Central Ontario. He is also the host of the Wealth Compliance Leaders series.