It's been just over a month since Client Focused Reforms (CFR) came into effect.  In our conversations with dealers, the vast majority have met the Know Your Product (KYP) requirements by deploying technology or meeting the requirements manually, while some have adopted a 'wait and see' approach.
Watch our on-demand webinar to hear industry experts share their thoughts on the CFR journey and steps taken to tackle the KYP requirements. Specifically, Nancy Mehrad from Registrant Law, Justitia Pak from BMO Investments and Richard Rizi from Worldsource Wealth Management will discuss:
What to expect from the Regulators with respect to the upcoming CFR "sweep"
Risks and challenges facing dealers and advisors by taking a manual approach to the KYP requirement
Strategic opportunities when implementing KYP technology
Nancy Mehrad, Founder and CEO, Registrant Law
Nancy is a securities lawyer with nearly 20 years of experience providing securities and regulatory legal advice to portfolio managers, investment fund managers, and investment dealers (including EMDs).  She has extensive in-house experience in the investment management industry, supporting the advisory, distribution, and asset management sides of the business.  Nancy led the legal department of Bank of Montreal's investment dealer and portfolio investment counsel businesses, and was in-house counsel at Mackenzie Investments and Empire Life Investments, both Canadian mutual fund manufacturers.  She also worked as legal counsel at the Investment Industry Regulatory Organization of Canada (IIROC).
Nancy is a member of the Ontario Securities Commission's (OSC) Securities Advisory Committee, where she provides advice to the OSC on legislative and policy initiatives, and capital markets trends.  Nancy graduated from Osgoode Law School in 2003.
Justitia Pak, Implementation Consultant – Digital Compliance Initiatives, BMO Investments
"JP" is a digital and strategy consultant with over 15 years of experience in leading enterprise technology projects.  He has broad experience in developing digital strategy for businesses and leading subsequent implementations from design, delivery, and change management.  After eight years in a big four professional services firm, he's worked with major banks and wealth management firms in Canada.  His areas of focus are in accelerating digital transformation for financial services, enhancing the digital client experience, and navigating regulatory change into a competitive advantage for large financial institutions.
Richard Rizi, Senior Director Investment Services, Worldsource Wealth Management Inc.
Rich Rizi is Senior Director, Investment Services for Worldsource Securities Inc. (WSI) and Worldsource Financial Management Inc. (WFM). He joined Worldsource in June 2008 and has a broad mandate that encompasses oversight of the Dealers, product and investment programs, as well as practice management/education, business development and compliance initiatives.
Rich's career in the financial services industry began in 1994 when he joined a leading mutual fund manufacturer, eventually holding a senior role in their Dealer Services department. He subsequently joined the global asset management group of a major Canadian bank as a portfolio manager where he and his team managed an asset allocation service with over $2 billion in assets, as well a private client bond program.
Rich is a graduate of Dalhousie University in Halifax Nova Scotia, holds the Chartered Investment Manager (CIM), Financial Management Advisor (FMA), Responsible Investment Specialist (RIS) designations and has completed Level 1 of the Chartered Financial Analyst program.
Dave Carr-Pries, Vice President, Product & Marketing, InvestorCOM
Dave has spent the last decade helping financial organizations be compliant while focusing on the client experience. He delivers best-in-class design practices, technology, and a passion for creating intuitive experiences and solutions. Dave supported the industry's adoption and implementation of CRM2 through investor and advisor research, CRM2 report design for 30 Canadian dealers including banks, insurance companies and mid-sized independent dealers. He has since been focusing on delivering solutions for Client Focused Reforms in Canada and Regulation Best Interest in the US.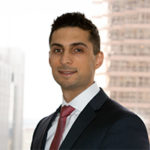 Parham Nasseri, Vice President Regulatory Strategy, InvestorCOM
Parham Nasseri's career spans the intersection of wealth management regulation, innovative technology, and consulting solutions. He is currently the VP of Regulatory Strategy at InvestorCOM, a leading RegTech provider, and has held leadership roles in a Canadian regulatory organization (OBSI), where he led the data and investment analysis team.
Parham serves as a Strategic Advisor to a range of organizations including the Canadian RegTech Association, Junior Achievements and CFA Societies of Canada. He holds a CFA Charter and an MBA from Schulich School of Business.