With the CFR implementation deadline fast approaching, many firms are looking for practical strategies for meeting the remaining elements of the CFRs.
Watch this 60-minute on-demand webinar to hear industry experts from Assante Wealth Management and BLG discuss approaches firms can take to meet their KYP obligation. The discussion will focus on:
Practical approaches for firms to meet their KYP obligations.
Defining and monitoring a product shelf for significant change.
How advisors can meet their KYP obligation and assess available alternatives using an unbiased and repeatable process.
Best practices for advisors to document their KYP and reasonably available alternatives assessment.
Rebecca A. Cowdery, Partner, BLG
Rebecca practises securities law, as well as corporate and commercial law. She focuses on the compliance, regulatory and governance issues facing participants in the investment management industry, including fund managers, portfolio managers and dealers. She has over 25 years of experience working with the investment management industry as a lawyer and a regulator. Rebecca works with fund managers to establish new products and to manage and administer funds in compliance with applicable regulation. Among other things, she assists fund managers and independent review committees to effectively implement and comply with fund governance regulations in Canada. Rebecca also advises firms about effective implementation of the regulatory and compliance requirements for registrants mandated by the Canadian securities regulators. Rebecca joined BLG in November 2003, after nine years as a senior investment funds regulator with the Ontario Securities Commission (OSC).
Michael Taylor, Partner, BLG
Michael practices investment management and securities law. He focuses in the areas of registrant regulation, securities compliance, derivatives registration and documentation matters, and hedge/pooled/private equity funds. Michael advises securities registrants throughout their securities registration and compliance lifecycles, including foreign and Canadian advisers, dealers and fund managers on registration and ongoing securities compliance matters. He also advises both offshore and domestic hedge and private equity funds on the sale of their product in Canada and the regulatory aspects of private placements. Additionally, Michael acts for investment funds and other entities that use derivatives, including negotiating the ISDA, futures and other standard documentation, and advising on derivatives regulatory compliance matters.
Richard Wylie, Vice President Investment Strategy, Assante Wealth Management
Richard Wylie oversees Assante's investment product shelf. He chairs Assante's Investment Committee and performs due diligence on new product offerings, acting as the liaison with product issuers, promoters, and underwriters. Richard also coordinates the approval of specialty investment transactions with Assante's Compliance team and trading desk. Prior to joining Assante in 2000, Richard was the trading floor economist and fixed income analyst at TD Securities. During his six years at TD Securities, he specialized in the areas of economic analysis of the U.S. and Canadian economies, corporate and government debt, and studies of both the U.S. Federal Reserve and the Bank of Canada. Prior to his tenure at TD Securities, Richard spent five years trading both Foreign Exchange and Money Market securities for Ontario Hydro. Richard has been a CFA charterholder since 1994. He received both his B.A. and M.A. in economics from the University of Waterloo.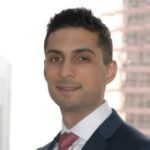 Parham Nasseri, Vice President Regulatory Strategy, InvestorCOM
Parham Nasseri has over a decade of wealth management and regulatory experience. He is the Chair of the Canadian Advocacy Council of CFA Societies Canada and previously held roles at the Ombudsman for Banking Services and Investments and the Brattle Group. Mr. Nasseri is a CFA Charterholder and has an MBA from Schulich School of Business.
Dave Carr-Pries, Vice President, Product & Marketing, InvestorCOM
Dave has spent the last decade helping financial organizations be compliant while focusing on the client experience. He delivers best-in-class design practices, technology, and a passion for creating intuitive experiences and solutions. Dave supported the industry's adoption and implementation of CRM2 through investor and advisor research, CRM2 report design for 30 Canadian dealers including banks, insurance companies and mid-sized independent dealers. He has since been focusing on delivering solutions for Client Focused Reforms in Canada and Regulation Best Interest in the US.