With PTE 2020-02 in effect, firms and financial professionals have taken steps to achieve varying states of compliance.  With FINRA ramping up Reg BI examinations and the SEC focusing on Reasonably Available Alternatives, many firms are asking how best to prepare.
Watch this on-demand webinar to hear industry experts from Faegre Drinker, FirstMark Regulatory Solutions, and DFPG Investments LLC share their expertise on:
What firms should expect from DOL enforcement
Guidance on providing "specific reasons" why a rollover recommendation is in the best interest of the investor
Taking an educational or advice-based approach to making rollover recommendations
How best to prepare for an audit and retrospective reviews
Risks associated with taking a manual approach to assessing and disclosing rollovers, looking up costs, and storing disclosures in disparate locations.
Craig Watanabe, Director of IA Compliance at DFPG Investments, LLC
Craig R. Watanabe, CSCP®, AIF®, CFP® has been a Financial Adviser and the Director of IA Compliance at DFPG Investments, LLC. ("DFPG") since April 2018. Mr. Watanabe entered the securities industry in 1983 and has been a successful financial planner, Branch Manager, Operations Manager, Chief Compliance Officer and Chief Operating Officer. Mr. Watanabe has broker-dealer and investment adviser compliance experience covering retail brokerage, market making, research, investment banking, insurance, commodities, retail investment advisory and ERISA plans. In his current role as a financial adviser with DFPG, Mr. Watanabe works with clients to assist in growing and protecting their assets and planning to meet their financial objectives. DFPG is a registered broker-dealer and investments adviser.  Mr. Watanabe is responsible for the investment adviser compliance program. Mr. Watanabe served on the FINRA District 2 Committee from 2008-2011 and was Chairman of the Committee in 2011. He also served six years on the NSCP Board of Directors and was Chairman of the Board in 2013. Mr. Watanabe is a frequent speaker at conferences and has authored numerous articles and training modules for financial professionals. Securities and advisory services are offered through DFPG Investments, LLC, Member of FINRA and SIPC.
David Porteous, Partner, Faegre Drinker
David Porteous routinely counsels clients in the investment management, broker-dealer and financial services industries on regulatory matters including examinations, investigations and enforcement proceedings as well as complex civil and securities-related litigation. In addition, he assists clients in developing and implementing compliance and regulatory risk management plans and represents clients in complex civil and securities litigation.
Joshua J. Waldbeser, Partner, Faegre Drinker
Joshua Waldbeser counsels retirement plan sponsors, asset managers and funds, and financial services providers on their fiduciary responsibilities under ERISA, and keeps them on course with regulatory compliance matters. Formerly with the Department of Labor (DOL) Employee Benefits Security Administration, Joshua has an insider's view of the regulatory challenges faced by employers with respect to their own plans, and by insurance companies, investment advisers, broker-dealers, recordkeepers, banks and trust companies with respect to their services to plans and IRAs. He provides practical, business-oriented advice that reflects the interplay between ERISA, securities and other sources of law, and focuses on compliance and risk mitigation.
Mitchell Atkins, Principal, FirstMark Regulatory Solutions
Mitchell Atkins has over 26 years' experience in the securities industry. Of this, he spent 20 years at FINRA (formerly NASD).  He started his career in the industry at NASD (now known as FINRA) as an examiner trainee and worked in every role in the FINRA Member Regulation district office structure. After serving in various examiner and examination manager roles, he was appointed Associate Director in charge of the Long Island Office.  In 2005, he was tasked with the startup and staffing of the Florida District Office in Boca Raton, becoming District Director. Later, he was appointed as Regional Director for FINRA's South Region which included oversight of the Florida, Atlanta, Dallas and New Orleans district offices, overseeing the examination programs covering approximately 850 broker-dealers. Soon thereafter, he was promoted to Senior Vice President and Regional Director. In this role he served as a member of FINRA Member Regulation's Senior Management Team.  In 2013, he left a rewarding career at FINRA and founded FirstMark Regulatory Solutions.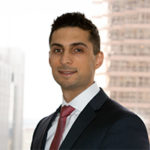 Parham Nasseri, Vice President Regulatory Strategy, InvestorCOM
Parham Nasseri's career spans the intersection of wealth management regulation, innovative technology, and consulting solutions. He is currently the VP of Regulatory Strategy at InvestorCOM, a leading RegTech provider, and has held leadership roles in a Canadian regulatory organization (OBSI), where he led the data and investment analysis team.
Parham serves as a Strategic Advisor to a range of organizations including the Canadian RegTech Association, Junior Achievements and CFA Societies of Canada. He holds a CFA Charter and an MBA from Schulich School of Business.