VIRTUAL ROUNDTABLE
Preparing for PTE 2020-02
Tuesday, August 31, 2021 at 1 pm – 3 pm ET
Time is running out for meeting compliance for PTE 2020-02.  By December 21, your firm's processes and documentation must be in place.
Some broker-dealers may be thinking that their Reg BI compliance efforts will cover these new requirements. Unfortunately, that is not the case. For example, the PTE's mitigation requirements appear to be more demanding than the SEC's. And the PTE's mitigation rules apply at the firm level, while the SEC's do not.
We invite you to attend our Virtual Roundtable to hear industry experts discuss the nuances of PTE 2020-02 and what firms need to do to get ready.
Chip Kispert, managing partner at Beacon Strategies is a 20-year veteran of the broker-dealer and asset management marketplace. In collaboration with InvestorCOM, Chip will moderate this interactive roundtable discussion.
Attendance is limited to 20 participants.
Firms Signed Up to Attend
Welcome and Introductions
PTE 2020-02: The regulation explained
What compliance means for you
How technology can help accelerate compliance
Chip Kispert, Managing Director, Beacon Strategies LLC
Chip Kispert has spent his entire working life helping wealth firms innovate and increase their relevance. Beacon Strategies, LLC, the company he founded in 2006, provides next-generation thinking and perspective to enterprise wealth firms and the solution providers that support them. The knowledge gained from annual consulting projects, Beacon Roundtables, and research initiatives supply Chip with an abundance of timely insight, context, and functional expertise. This knowledge, coupled with a broad set of industry relationships, helps steer Chip's customers toward achieving their strategic objectives.
Joshua J. Waldbeser, Partner, Faegre Drinker
Joshua Waldbeser counsels retirement plan sponsors, asset managers and funds, and financial services providers on their fiduciary responsibilities under ERISA, and keeps them on course with regulatory compliance matters. Formerly with the Department of Labor (DOL) Employee Benefits Security Administration, Joshua has an insider's view of the regulatory challenges faced by employers with respect to their own plans, and by insurance companies, investment advisers, broker-dealers, recordkeepers, banks and trust companies with respect to their services to plans and IRAs. He provides practical, business-oriented advice that reflects the interplay between ERISA, securities and other sources of law, and focuses on compliance and risk mitigation.
Rob Dearman, CEO and Chief Innovation Officer, DCG Insight
Rob Dearman is on a mission to help financial advisory firms build and grow the next generation of client-obsessed, fiduciary-focused, technology-accelerated strategies and platforms.
Rob's experience includes co-founding the country's third-largest independent broker-dealer network, National Planning Holdings, where he served as CIO and Head of Wealth Management. He was a designer and CTO for Curian Capital, the first digital TAMP, and led the Office of Strategic Initiatives for Jackson National. He served as a regulatory liaison and held a position on FINRA's FinTech Innovation Council and contributed to the SEC Reg BI and CRS regulation, DOL Fiduciary rule, NAIC Model Suitability rule, and several NASAA state fiduciaries efforts.
Ed Wegener, Managing Director, Oyster Consulting LLC
Ed Wegener is an innovative compliance, risk management and supervisory controls expert with deep understanding of Federal Securities Laws and the rules of self-regulatory organizations, as well as technology optimization and risk mitigation. Prior to joining Oyster, Ed held several posts in FINRA, most recently as  Senior VP and Midwest Regional Director.  While there, he was responsible for the Region's risk assessment, examination and investigation programs. Ed was a member of the team that developed FINRA's risk-based examination program and he developed and managed FINRA's first Digital Asset and Cybersecurity examination programs.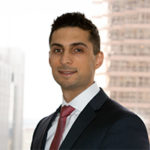 Parham Nasseri, VP Regulatory Strategy, InvestorCOM
Parham Nasseri has over a decade of wealth management and regulatory experience. He is the Chair of the Canadian Advocacy Council of CFA Societies Canada and previously held roles at the Ombudsman for Banking Services & Investments and the Brattle Group. Mr. Nasseri holds a CFA Charter and an MBA from Schulich School of Business.
Why Attend the PTE 2020-02 Virtual Roundtable
Learn from other wealth leaders, the issues they face and how they are working to solve them.
Get answers to your pressing questions from our panel of regulatory and legal experts.
Receive a summary of Roundtable insights for sharing with your team.
Learn More
If you are interested in attending our Roundtable or just want to learn more, please contact Travis Champion.