Looking to join a dynamic team that is making a difference? You've come to the right place.
Working at InvestorCOM
Joining InvestorCOM team is like joining a family. It's a place where everyone is supportive each other to get the job done. We are passionate about compliance and treat each other and our customers as partners in our success.
Our employees make InvestorCOM a great place to work. We value teamwork and our committees are a great way to build strong relationships and have fun. This includes organizing company events, arranging yoga Fridays, supporting efforts to reduce our impact on the environment, and so much more. When you join InvestorCOM, you will love Mondays!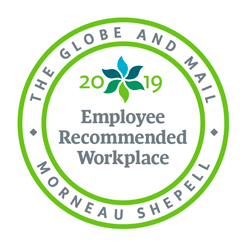 Employee Recommended Workplace Award 2019 & 2018
Canada's Top SMEs
2020, 2018
Hamilton-Niagara Top Employer
2020, 2019, 2018
Why our employees love working at InvestorCOM
"We live in a world of compliance and regulation, but we've been very successful at maintaining a family culture. We focus on team-building, whether it's centred around work or activities outside the office, and we combine high accountability with a lot of fun."
"I feel like I am part of something, and not a nameless faceless cog in the machine.  There is a great sense of team and togetherness."
Sarah, Production Control Specialist
"The people make InvestorCOM a great place to work. As a long time family member, its good to take the time to reflect on all the amazing people that I've had the privilege to get to know and work with."
Kevin, Digital Composition Developer
"What I love about working here is the autonomy I have. My directors have allowed me to innovate, fostering and creating trust in our everyday. Trust holds everything together! Speak the truth, foster trust!"
Shannon, Distribution Supervisor
"David Reeve and many other staff makes InvestorCOM a home away from home.  David is sincere. He knows and cares about his staff as people – he calls us by name, asks us about our kids, spouses.  He is genuine when he thanks us for a job well done."
Wanda, Client & Customer Care Supervisor
"I appreciate that InvestorCOM is big enough to support large Canadian companies and expand to the US market, while being small enough that employees can build personal relationships with colleagues. Our committees also do a great job at encouraging employee engagement."
"I love working at InvestorCOM because of the family I have found here.  I have developed valuable friendships and these are what keep me going.  Everyone works very hard so that we can succeed as a team."
Lori, Transactional Document Processing Manager
"InvestorCOM has a true family culture which has been evident since the day I started 20 years ago.  There has always been growth opportunities for advancing and supporting team development.  David Reeve's ability to drive the business and develop the right team has been a big enabler for InvestorCOM's success."
Robin, Director, Client Relations
"InvestorCOM is a great because of the interesting work that we do and the great people who are part of the team.  We accomplish big things for our customers and outperform our competitors who are normally much larger and have much deeper pockets. And we have a lot of fun along the way."
Did we mention the perks?
Group Health & Dental Benefits

RSP Matching

Profit Sharing Program

Perkopolis Discounts

Career Development and Training

Parental Leave Top-up
Current Openings
While we appreciate all candidates' interest, only those selected for interviews will be contacted.
InvestorCOM welcomes and encourages applications from people with disabilities. Accommodations are available on request for candidates taking part in all aspects of the selection process. Applicants are asked to make their needs / requirements known.