Values
Solutions Focused
We are Family
Better Together
Growth Mindset
Embrace Challenge
Purpose
We build stronger relationships by optimizing communications.
Our Employee-led Committees
Special Place to Work Committee
Responsible for organizing company events and activities such as Summer BBQ's, ICOM Olympics, Annual Holiday Party and fundraising events.
Wellness Committee
Responsible for keeping a pulse on the health & wellness needs of the company, developing ideas and organizing events, like Yoga Fridays!
Sustainability Committee
Supports and encourages company and individual efforts to reduce our impact on the environment. Our focus on sustainability and the benefits to the environment include several key initiatives described below:
Bullfrog Power: InvestorCOM's digital print operations are powered by Bullfrog Power, Canada's 100% green energy provider.
FSC Certification: InvestorCOM's print operations are certified from the Forest Stewardship Council's (FSC) Chain of Custody (CoC).
E-migration: our multi-channel communication solutions convert traditional print/mail communications to e-fulfillment reducing consumption of paper, energy and eliminating waste.
Environmental Printing Award: InvestorCOM was awarded the Gold Award at the EPA for the industry's Most Environmental Process. Highlights of the project include: return mail rate reduced from 15% to 5%; total waste saved over 16,000 mailers, the equivalent of approximately 73 trees; approximately 100,000 undelivered records captured in a database.
Health & Safety Committee
An advisory group that consists of both employees and management representatives. The goal of the committee is to collaboratively address health and safety concerns, review progress and make recommendations.
Social Responsibility
We support many charities, associations and not-for-profit organizations. We focus our support on several organizations so that our investments have a significant impact on improving the quality of life in the communities that we live and work. We host various fundraising events through our employee led committees and encourage employees to get involved with the community in different ways.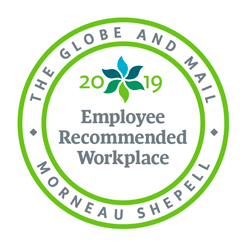 Employee Recommended Workplace Award 2019 & 2018
Canada's Top SMEs 
Hamilton-Niagara Top Employer
2020, 2019, 2018
Culture & Career Opportunities
"InvestorCOM recognizes that our team is our most important asset. As an outsourced partner to many of Canada's leading Financial Services organizations, our clients rely on our team to be an extension of their company. Many of our clients tell us that our service teams understand their business better than some of their own people – which is very gratifying to hear and also very important in building long-term relationships. If we are to continue to attract and develop people with this client-first focus, we must have a team-first culture where we all support one another. We also believe in building a company that feels like a family. In addition to working hard together, we also have a lot of fun through the various events organized by our Special Place to Work Committee. We have always felt that it is important to share the success of the organization and this is managed through our annual profit sharing program that has been in place since the company was founded."
– David Reeve, CEO
If you would like to be a part of our dynamic team of specialists and have a suitable background, we'd love your help developing innovative solutions for the Financial Services Industry. If you would like to learn more about our current career opportunities, click on the relevant link in the Open Positions section below.
While we appreciate all candidates' interest, only those selected for interviews will be contacted.
InvestorCOM welcomes and encourages applications from people with disabilities. Accommodations are available on request for candidates taking part in all aspects of the selection process. Applicants are asked to make their needs / requirements known.
What makes InvestorCOM unique?
InvestorCOM is unique in so many ways, but the ones that stand out for me is the owner is "hands on" and participates in the day to day in a collaborative way. Another thing that makes InvestorCOM unique is that we "think outside of the box" and bring new ideas to our clients on how to address a business or regulatory need. InvestorCOM is not bogged down with the typical bureaucracy that you would find at larger fintech firms, which is refreshing these days.
Derek, VP, Business Development
Why do you love coming to work?
The work environment at InvestorCOM rewards self-starters and innovative thinkers. When I come to work every day, I feel like my job title is really just a rough guideline, and I am regularly able to provide input and contribute in all areas of the business. Having this freedom to contribute and to feel like my thoughts and opinions are valued makes me that much more motivated to give 110% in all the work that I do, and allows me to go home at night feeling like I'm doing important work.
Rick, Director, Financial Planning & Analysis